Customer Service

Help Topics

All Topics
Address and Name Changes
Please use the Name/Address Change Form under Self-Service Forms on the Customer Service page to change your mailing address or correct any problems with your name.
Moving -Please change your address as soon as you know where and when you are moving. It takes the publishers around 8 weeks to make an address change so if you will be moving sooner than that notify the Post Office of your new address and specify that they should forward your magazines.
Moving out of the country -Orders placed through our services cannot be delivered outside of the U.S. and its territories. If you are leaving the United States permanently we can cancel your magazine and refund payment for the unused portion. You may contact the publisher of the magazine directly to obtain information on rates and availability for your subscription to be mailed outside of the U.S. If you will be returning to the United States we can put your magazine on temporary subscription. A temporary suspension request form is available on the Customer Service page under Self-Service Forms.
Note: We cannot change the name on a subscription unless it is a spelling correction or a legal name change.
Billing
If you select the Send Me a Bill option (1 payment or 3 installments) you will receive an invoice in the mail within 7 - 10 days. Your payment (or first installment) is due 16 days from the invoice date. We will also send billing reminder emails with a convenient link to pay online. If you mail your payment, please include the invoice stub and do not send cash. Use the invoice return envelope or send your payment to:
College Research Park
P.O. Box 30402
Lansing, MI 48909-7902
While most online subscription services require you to pay at the time you place your order, we offer the option of receiving a bill so that you can mail or call in your payment. However, payment is still due before you start receiving your magazines. The publishers require us to send payment to them with your order so we appreciate your prompt payment to us. If you are ever dissatisfied with your magazines or our service you are protected by our Exclusive Triple Guarantee.
Cancels
If at any time* you're dissatisfied with a magazine you order from us we will send a prompt refund for the remaining issues on your subscription. Or, you can apply the credit balance to a future order if you choose. Simply contact us by phone or using the Self-Service form on the Customer Service page to initiate a cancellation.
*Many other online subscription services do not allow cancels or they must be done within 48 hours or 90 days.
Confirmation Emails
You will receive an immediate confirmation email detailing the contents of your order after submitting an order. After your order has completed processing, usually within one business day, you will receive a final confirmation email. Please add our website address to your approved senders list to ensure that these emails don't go in your spam mail folder. If you established a User Id and Password during the ordering process you will be able to log in to your account after you receive the final confirmation that your order has completed processing.
Delivery Problems
Although the publisher is responsible for sending your magazines, we will handle any delivery problems you are having. If you missed an issue or received damaged, duplicate or back issues, call our toll-free number or use one of the Self-Service Forms on the Customer Service page and we will notify the publisher for you.
Back Issues - Some publishers use leftover copies from previous issues so they can start a subscription more quickly. If you had already purchased the issue from the newsstand please contact us and we will notify the publisher to extend your expiration date so that the duplicate issues are not counted as part of your subscription.
Delivery Timing -Most magazines are sent to subscribers around the same time they hit the newsstand, but it depends on the policies of the individual publisher. Some magazines will arrive on the newsstand before subscribers receive their copy. In addition, the date/day that each issue arrives may vary due to publisher or post office factors. If you haven't received an issue within a week of when you normally receive it, please contact us.
Exclusive Triple Guarantee
Savings
If you find a lower publisher-authorized price for any magazine you've purchased from us, we'll cheerfully refund the difference.
Quality
If you're ever dissatisfied with any magazine you order from us, we'll gladly send a prompt refund for all undelivered issues!
Service
If you're ever unhappy with our service, we will do whatever it takes to make it right - even a 100% cash refund if you choose!
Expiration Dates
The expiration dates shown in the My Account section of our website and on our Subscription Summary forms are estimates because the publishers do not provide us with exact delivery dates. The actual expiration date is on your magazine mailing label above your name. If the actual expiration date differs from our estimate, or if it appears incorrect, please contact us. Allow a couple of issues for renewals or corrections to the actual expiration date to be reflected on the magazine label.
The way the expiration date is presented on the magazine label should appear similar to the graphic below. It will state the month and year in the format the publisher has designated. For example, an expiration date of April 2011 may show up as either 04/11 or AP11 or APR 11, or even as specific as APR 16 11. If you have any questions please contact us.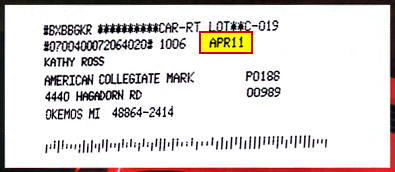 Foreign Delivery
Currently we are only authorized to accept orders to be delivered within the United States and its territories. However, we are able to deliver most magazines to APO/FPO (overseas military) addresses. Contact the publisher for international delivery and rates.
Free Gift Cards
You can send electronic gift cards from our website, or print them off, to give your gift subscription recipients. Just click the "Free Gift Cards" link in the left navigation box. From there you can select one of dozens of cards to send, and customize it with your name, your recipient's name and a custom message.
Gift Certificates
Gift certificates can be purchased on our site by clicking on the "Gift Certificates" link in the left side navigation bar. On that page you can choose the value of your gift certificate(s) and the number you would like to purchase. Next you will be taken to the shopping cart page and you can either add more items to your order or click the "Checkout" button to place your order. After entering your name and address information you will have the opportunity to customize your gift certificate(s) with the name of your recipient, the sender's name and a personal message. Gift certificates can be sent to their recipients via email, or you can email them to yourself to print for personal delivery.
Redeeming gift certificates is easy. Just find the magazine(s) you would like to order, click the "Buy" button and proceed through the checkout process. On the payment page you will have the option of choosing "Click here to redeem a Gift Certificate." You will then be asked to enter the Claim Code that is printed on your gift certificate.
Gift Orders
To order a magazine as a gift just click the "Buy as a Gift" button for the magazine you want to order. Once in the shopping cart you can see that a magazine will be ordered as a gift by verifying that the "Gift" box is checked under "Order Options." As you proceed through the checkout you will have the opportunity to add your recipient's mailing address.
How to Order
1. Shopping Cart -Browse our site or use our search box to find the title you would like to order. Then add the magazine to the shopping cart by clicking the "Buy" button or the "Buy as a Gift" button. You will then be taken to the shopping cart page. Once in the cart you will see your magazine. If you or your recipient already receive the magazine check the "Renewal" box. If you are giving the magazine as a gift the "Gift" box must be checked. Now you may either click the "Continue Shopping" button to add more titles to your order or click the "Checkout" button to place your order.
2. Billing Address/Login -If you are a returning customer and have a User ID and Password you can log-in here. Otherwise, enter your billing name and address, and if you wish, specify the User ID and Password you would like associated with your account.
3. Confirm Your Address -The next screen lists the magazines you are ordering with the names and addresses they will be sent to. To change the delivery name/address for a magazine, click on the arrow next to "Change this name/address" to see a list of addresses associated with your account. You can select one of these or go to the bottom of the list and choose Add a New Gift Name/Address or Edit this Name/Address to update the address you've chosen for this magazine.
4. Billing Information -Provide your payment information and click "Checkout and View Receipt."
If you have questions or problems placing your order, please contact us and we will be happy to assist you.
Individual Back Issues
Please contact the publisher if you are trying to order an individual back issue and they may be able to fulfill your specific request.
Missing Issue
If you miss an issue in a current subscription, please use the Missing Issue form under Self-Service Forms on the Customer Service page. If you haven't received your first issue of a subscription, please see the "Subscription Start Times" help topic for more information. A recent change in address could also delay your subscription. Make sure you instruct the Post Office to forward your magazines and fill out the Name and Address Change form on our Customer Service page.
My Account
Accessing Your Account -If you established a User ID and Password during the ordering process, you will be able to log in to your account after you receive the final confirmation that your order has completed processing. Click on the My Account button at the top right of an page to log in to our site.
Creating An Account -Note: If you have never placed an order you cannot register for an account. If you didn't specify a User ID and Password when you placed your order, you will need your Customer Number to create your account. Your customer number is on your invoice and in the final confirmation email that you receive one to two business days after you place your order.
To start creating your account, go to the top right of any page and click the My Account button. On the following page click the link that says "I am a customer but new to the site." From there you can enter in your Customer Number and email address, and create a User ID and Password.
After you create an account you will have access to the list of magazines you have ordered for yourself or as gifts. You can also make payments online, or change your email address or preferences.
If you can't find your Customer Number, contact us and a customer service representative will help you.
Note: New customers do not show up on our system until the first order has completed processing...usually in one to two business days. Customer Service will not be able to give you your Customer Number or create your account during that time.
Ordering for Inmates
We accept gift orders for inmates as long as payment is made upfront. Our service guarantee does not apply to correctional facilities as delivery tends to be unreliable. We will attempt to resolve delivery problems if notified, and we will refund the remaining term of the subscription if you elect to cancel, but we cannot compensate for missed issues. Note that some correctional facilities have restrictions on the type of magazines allowed. Please check with the institution the subscription will be going to for their regulations.
Payment Methods
We accept credit or debit cards sponsored by Visa, MasterCard, Discover and American Express as well as personal checks, certified checks and money orders. You can pay online using a debit/credit card, check, or Paypal. You also have the option to be billed by mail in one or three installments.
Payment Plan
We are proud to be one of the few online magazine agencies that offers a three-payment billing option. Your first invoice will be for one-third of the order amount and is due within two weeks. Invoices for the second and third installments will arrive four weeks after the previous invoice. If choose to pay more than the one-third you are billed for, subsequent invoices will be adjusted accordingly. You can vary which payment method you use for each installment. Use whatever method is easiest for you at that time.
Pricing
We offer all of our magazines with no extra charges for shipping and handling. Our prices are all publisher-authorized because we negotiate with all of the magazine publishers. This ensures that you get the best possible service and value. Some other companies may offer cheaper subscriptions, but these are usually unauthorized agents and the quality of their service is often lacking. If you find a lower, publisher-authorized price we will match that price.
Newspapers may have taxes that will charged by the publisher after you order.
There are a few publishers who do not allow their magazines to be sold on our website, so please contact us if you cannot find the magazine you want. If we carry the magazine we can place the order for you. If not, we will add it to our request list. We add new magazines to our offerings on a regular basis so check our site often to see what's new!
Refunds
Refunds will be issued in the same manner by which you paid. Please allow 4 to 5 business days for a credit card refund and up to 3 weeks for a refund check.
Renewals
We can renew most of the magazines we offer whether the current subscription is through us or another source. There are a few publishers that only allow us to accept new orders. Contact us for more information.
Renewals should be placed at least 8 weeks prior to the expiration date to ensure continuous service. Place your order as usual and check the renewal box in the Shopping Cart. Make sure that your name and address are entered exactly the way they appear on your current magazine label to ensure that the publisher adds the new term to the end of your existing subscription. If you start receiving duplicate issues, please notify us right away. We will contact the publisher to combine the subscriptions and adjust the expiration date for the duplicates received.
Special Student/Educator Rates
We have agreements with a number of magazine publishers which allow us to offer subscription rates to college students and faculty that are even lower than our regular discount rates. These magazines will have links to the special prices on their product page. If you add one of these offers to your cart, you must provide current school information during the checkout process to qualify for these special rates.
Subscription Start Time
Publishers typically print their magazine address labels a few issues in advance. Subscriptions start with the next unlabeled issue when they receive a new order. Therefore, the time it takes the publisher to start a subscription depends on how frequently the magazine is published, the timing of the order in their labeling cycle, and the individual publisher. Magazine industry guidelines for starting or renewing a subscription are:
Daily Newspapers - 2 to 3 weeks
Weekly Magazines - 4 to 6 weeks
Bi-Weekly and Monthly Magazines -6 to 10 weeks
Bi-Monthly and Quarterly Magazines - 12 to 16 weeks

There are a few publishers that take longer than the standard start time, however, your subscription always begins when you receive your first issue. If your subscription hasn't started in the appropriate time frame, please contact us.
Occasionally a publisher will start a subscription with past issues to start the subscription faster. If your subscription starts with issues that are out of date or ones that you have already read, please contact us and we will make the necessary adjustments.
Suspending Delivery
At your request, we can stop delivery of your magazine for a period of time and restart service at a later date. You will still receive the full term of your subscription(s). Simply contact us or fill out the Temporary Suspension form under Self-Service Forms on the Customer Service page.
Publishers of monthly magazines require 8 to 10 weeks advance notice to suspend delivery. Allow 5 - 7 business days for daily papers and 4 weeks for weekly publications. If you don't know the date and/or address for restarting the subscription leave that information blank and contact us again as soon as you know. Restarting a subscription requires the same lead time as suspending.
Tax on Newspapers
Some states charge sales tax on newspaper subscriptions, such as USA Today, including: Alabama, Arizona, California, Colorado, Florida, Georgia, Idaho, Kansas, Kentucky, Louisiana, Maryland, Missouri, North Carolina, South Dakota, Washington D.C., and West Virginia. You may receive a bill from the publisher directly for the tax or the publisher may reduce the number of issues in lieu of being billed for tax. For more information, please contact us.
Technical Problems
There are two things you can check when you experience problems on our website. First, please check your security settings in your browser. Our site sometimes has trouble if your security is set to 'high,' so you might try lowering it to 'medium.' Also, check to make sure 'cookies' and 'javascript' are set to 'enabled.' After verifying both of these items you will need to close your browser, re-open it, and go back to our website. These settings are usually found in the 'Tool's menu of your browser under 'Internet Options.' If you continue to have problems please use the Technical Problems form listed under Self-Service Forms on the Customer Service page.
Help Topics
---
Magazines Home | Site Map | Customer Service | Our Guarantee | Contact Us
| Privacy Policy | About Us | Magazine Affiliate Program

MagazineLine is a division of American Collegiate Marketing, Inc.
© 1997 - American Collegiate Marketing, Inc. Terms of Use
For Phone Orders and Customer Service, Call Toll-Free 1-800-959-1676

P.O. Box 30404, Lansing, MI 48909-7904